What is an Electric Panel Inspection?
The electric panel or panels, for larger companies is the cross point of the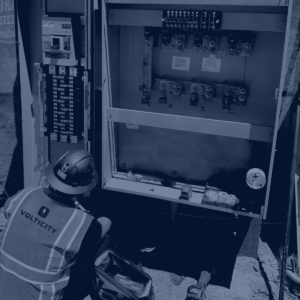 electrical feeds incoming main utility service wiring and the building's internal service wiring. For power to be properly rated and electricity to flow safely and reliably, electrical panels require proper installation and regular maintenance.
A professional and thorough panel inspection will have these basics, followed up by an electrical panel inspection checklist which will ensure nothing is missed:
Structural Integrity- Inspection of the panel & coverings
Inspection of Openings & Loose bolts
Confirming Everything is Labeled Properly
Ensuring Correct Amperage Matches with each Circuit
Check for Ground Fault Circuit Interrupters (GFCIs)
Check for Arc Fault Circuit Interrupters (AFCIs)
Make sure the wiring and organization is in line
Check for Proper grounding
Temperature/Load Checks on the Breakers for Overloading
Why is an Electric Panel Inspection Required?
Most companies will routinely have their roofing inspected, HVAC systems inspected and serviced regularly on schedules, many businesses don't spend the time to ensure the electrical system at their place of business is safe and to code.
Neglected electrical panels are fire hazards & other issues waiting to happen- all kinds of harm can be building up if you do not regularly have your panel checked.
Types of Panel Issues
Corrosion and/or oxidation of internal equipment
Water entry from leakage
Rodent nesting, insects and damage
Arcing of the wiring
Breakers Tripping
Insufficient Panel Clearance
Overheating Breakers- Melting/Burning
When You Should Have Your Electric Panel Inspected
Electrical panel inspection and maintenance should be done as regular part of your business's plan for protection every few months.
If you encounter an irregular flow of power or encounter brownouts or tripping of breakers, the electrical system is sending warnings we recommend and electrical panel inspection right away before it's too late!
Types of Business We Work With
The team at Volticity  can offer their services, and maintenance with electrical panel inspection to businesses of every size:
Commercial & Industrial Businesses
Manufacturing & Plant Operations
Environmental Companies
Banks and check cashing institutions
Hospitals, senior centers and convalescent homes
Jewelers, furriers, cold storage facilities and other secure locations
Financial firms
And many more!
If you are looking for a turnkey company that will be there to service and maintain your business electrical needs, then let Volticity be your partner!
• EV Electrical Infrastructure design/build
• Commercial, Industrial or Residential
• 120V-208V-240V-480V & 1 PHASE / 3 PHASE Circuit Work
• Underground Conduit, Boring, Saw Cut, & Buried Cable Systems
• Overhead Electrical Systems ran on Permanent Power Poles
• Meter Panel & Electrical Cabinet Installation 100A-2,000A
• City & Local Utility Permitting & Design Services
• Civil Engineering & Drawing Services
• Certified Electricians
• Experts in installing EV Chargers in shopping centers, malls, parking structures, retail centers, and more!
Other Services We Provide:
Indoor & Outdoor Lighting
Temporary Holiday Lighting
Transformer Step Up & Step Down Systems
1 phase / 3 phase Systems
120V, 220V 240V, 277V, 480V power systems
Machine wiring & heavy equipment
Lighting Relays & Motor Controls
Sign Repair & Installation
EV Charging Stations Commercial & Residential
Cell Tower electrical upgrades
Underground Systems- trenching, conduit, and cable
Overhead Systems- overhead wired systems up to 35' feet
Temporary Power, Lighting, & Security
Volticity is a family owned private company located in Orange County, CA. Its corporate offices are in Irvine and the field operations are in Orange. Our parent company- Temp Power Systems has been around for over 30 years. Temp Power Systems is a full service temporary power provider that provides construction power systems (overhead poles or underground), temporary lighting systems, security systems, and generator rentals. Because of our decades of specialty electrical background, we have a very experienced & versatile installation field team that can think outside of the box when bringing power to a site for EV Charging.
What Separates Us & Makes us Unique
We are a specialty power solutions electrical contractor that is unique and one of a kind to the industry because of our background.
Our focus is on the labor/infrastructure side and we can run any type of power system required for any type of charging station while being your labor & installation partner on your projects.
What separates us from everyone else and makes us so unique is a few things I think you will find beneficial in working with us as your installation partner. 
Our mission & commitment is to provide our partners with the best in turnkey, personal quality service and satisfaction. Contact Volticity or all your electrical needs.
Licensed, Bonded & Insured
Certified Electrical Technicians
Personal Quality Service
Volticity aims to serve you with personal, quality customer service. We're committed to:
Delivering services on time and on budget
Providing consistent industry standard work quality
Treating everyone fairly and courteously
Keeping you informed on project status