Commercial EV Charging Station Installation

In addition to design, build, and installation, Volticity can be your commercial Electric vehicle (EV) charging station service, repair and maintenance partner.
• Electric Vehicle (EV) Charging Station Service: On average, each ev charging unit should be serviced at a minimum annually depending on usage. Our team of experienced service technicians will put you on and "out of site",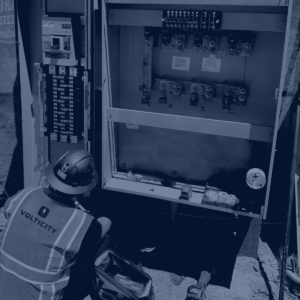 "out of mind" electric vehicle (EV) charging station recurring service program. The best part is that our service contracts are low cost solutions that help maintain the integrity of your ev charging station.
• Electric Vehicle (EV) Charging Station Repair Have a charger go down and don't know who to call to come out and fix it? Look no further, Our team of experienced electric vehicle (EV) service and repair technician specialists have you covered. We will identify the problem onsite, and then propose a plan to repair the electric vehicle charging station. In some cases, we may even recommend replacing and swapping out the old charger if needed- which we can also accommodate.
• Electric Vehicle (EV) Charging Station Maintenance We offer monthly, quarterly, and annual electric vehicle (EV) service contract programs that are very cost-effective and affordable. If you have people regularly plugging their electric cars, trucks and vehicles into your charging stations, then you want to have peace of mind in knowing that your equipment is up to par, operating properly, and most importantly safe for use. Volticity specializes in electric vehicle (EV) maintenance. Whatever the problem, repair, or service required to ensure the integrity of your charging station, we will have you powered!
If you are looking for a turnkey company that will be there to service, maintain, and repair your electric vehicle (EV) charging station(s), then let Volticity be your partner!
• EV Electrical Infrastructure design/build
• Commercial, Industrial or Residential
• 120V-208V-240V-480V & 1 PHASE / 3 PHASE Circuit Work
• Underground Conduit, Boring, Saw Cut, & Buried Cable Systems
• Overhead Electrical Systems ran on Permanent Power Poles
• Meter Panel & Electrical Cabinet Installation 100A-2,000A
• City & Local Utility Permitting & Design Services
• Civil Engineering & Drawing Services
• Certified Electricians
• Experts in installing EV Chargers in shopping centers, malls, parking structures, retail centers, and more!
Other Services We Provide:
Indoor & Outdoor Lighting
Temporary Holiday Lighting
Transformer Step Up & Step Down Systems
1 phase / 3 phase Systems
120V, 220V 240V, 277V, 480V power systems
Machine wiring & heavy equipment
Lighting Relays & Motor Controls
Sign Repair & Installation
EV Charging Stations Commercial & Residential
Cell Tower electrical upgrades
Underground Systems- trenching, conduit, and cable
Overhead Systems- overhead wired systems up to 35' feet
Temporary Power, Lighting, & Security
Volticity is a family owned private company located in Orange County, CA. Its corporate offices are in Irvine and the field operations are in Orange. Our parent company- Temp Power Systems has been around for over 30 years. Temp Power Systems is a full service temporary power provider that provides construction power systems (overhead poles or underground), temporary lighting systems, security systems, and generator rentals. Because of our decades of specialty electrical background, we have a very experienced & versatile installation field team that can think outside of the box when bringing power to a site for EV Charging.
What Separates Us & Makes us Unique
We are a specialty power solutions electrical contractor that is unique and one of a kind to the industry because of our background.
Our focus is on the labor/infrastructure side and we can run any type of power system required for any type of charging station while being your labor & installation partner on your projects.
What separates us from everyone else and makes us so unique is a few things I think you will find beneficial in working with us as your installation partner. 
Our mission & commitment is to provide our partners with the best in turnkey, personal quality service and satisfaction. Contact Volticity or all your electrical needs.
Licensed, Bonded & Insured
Certified Electrical Technicians
Personal Quality Service
Volticity aims to serve you with personal, quality customer service. We're committed to:
Delivering services on time and on budget
Providing consistent industry standard work quality
Treating everyone fairly and courteously
Keeping you informed on project status